Desert Willow Sales Policies
Placing the puppies we raise in their new homes is a responsibility we take very seriously. All our puppies are sold on a Companion Contract. Companion puppies are sold on a sterilization agreement. Companion puppies from Desert Willow are NOT the undesirable pups from a litter. They are simply pups who will not be used for breeding. We occasionally sell to breeders, however we prefer all our dogs to live in a home with you. Our Companion dogs are quite often show quality, and are sold with the same Guarantee.
If you are interested in one of our puppies, please take a minute to fill out our online questionnaire & we will contact you promptly. References will be required.
---
Purchasing a "Desert Willow" puppy - The process starts here.
Please Read This.
Purchasing a puppy from us implies that you have read, understand and agree to these terms.
---
Reputation is Everything to us. The quality and health of the dogs we breed speaks louder than anything we could ever say. When it comes to breeding a sound and healthy Australian Shepherd, we make no compromises. Many "breeders" produce pups for one reason - Profit. Sadly, when this is the case, quite often dogs that should not be are bred; dogs that have health or genetic problems, but can still produce another couple litters.
If you're looking for a cheap pup, look elsewhere. Just keep in mind the difference between "Price" and "Cost". You can find an Australian Shepherd pup for a cheap price. The question to ask yourself NOW, is if saving a couple hundred dollars on the Price is worth the Cost. Is it worth the Cost of thousands of dollars in vet bills when your Aussie develops medical problems? Is it worth the Cost of watching your family's companion suffer because he was carelessly bred by someone out to "make a buck"? Is it worth the Cost of your children's tears when their beloved pet has to be put down at a young age because he can't walk or has severe seizures? PLEASE, before you compromise and purchase that cheaper pup for a lesser Price, ask yourself if it will really be worth the Cost in the end.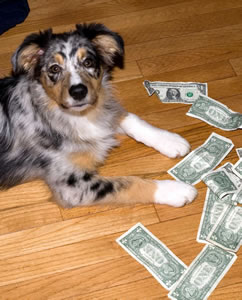 &
If you are looking for a healthy affordable quality dog, you're in the right place. Our Australian Shepherd pups are sold on a Contract, with a Full (Unbeatable) 5 year Health Guarantee.* Our contract is designed with the dog in mind, also to protect both buyer and seller. There is a lot of important information in our contract, please review it carefully. Our primary concern is the care of our pups. In the event of a health problem with your Desert Willow Australian Shepherd, our contract DOES NOT require you to return your loved pet to receive a refund/replacement. (Beware of any contracts that do require the dog's return, as a number of breeders will use this as a detriment to keep from actually having to replace the dog / refund your money.)
Our FIVE YEAR Health Guarantee and Purchase Contract is below:
Every Desert Willow Aussie is sold on a Contract. While our contract is designed with the dog in mind, to protect and offer peace of mind to both buyer and seller, our primary concern is the well-being of our pups. We breed for HEALTHY dogs, and our contract guarantees you will receive just that standing behind our puppies/dogs 100%.
Our Guarantee/Contract covers the following:
General:
Buyer agrees to maintain dog in good health and provide proper care.

Terms of Ownership:
Breeder reserves "Right of First Refusal" if a Desert Willow Australian Shepherd is unable to be kept in its new home. As a Breeder, we Guarantee a "Home for Life" for EVERY Australian Shepherd we breed. A Desert Willow dog will NEVER be surrendered to a pound, shelter, or rescue. Our screening process enables us to find wonderful homes for each puppy/dog leaving the Desert Willow Ranch.
Our complete FIVE YEAR (ROCKIN') health guarantee covers health issues, hereditary or genetic disorders in writing. An extensive Veterinarian examination will be done to screen for genetic issues during Puppy-hood and eyes will be checked prior to leaving "our arms to yours". Documentation will be included in your packet on the outcome of the examination for your Veterinarian records.
The Screening Process & Clearance includes: Anterior Crossbite, Brachygnathism, Collie Eye Anomaly, Deafness, Microphthalmia, Pannus, Patent Dectus Arteriosus, Pelger-Huet Anomay, Persistent Pupllary Membranes, Persistent Right Aortic Arch, Prognathism, Pulmonic Stenosis and Uveal Hypopigmentation, HSF4, PRA, CEA/CH

In the event of a health problem with your Desert Willow Aussie, you are offered options for a replacement or a refund. However, our contract DOES NOT require you to return your loved pet (or euthanasia) to receive a refund/replacement. (Beware of any contracts that do require the dog's return or euthanasia, as a number of breeders will use this as a deterrent to keep from actually having to replace the dog / refund your money.)
Type Guarantee:
We no longer place any of our Puppies/Dogs out for Breeding. Our heart is to keep our lines clean from all genetic issues to the best of our ability and as hard as we've tried to work with breeders, however, not every Breeder feels the same convictions as we do. Many folks want to have just "One" litter and we understand that, however my question is: "What happens to the puppies that need rehoming later?" What about the Testing Expenses?
Today with all the Genetic Issues in pure-bred dogs we've learned after nearly 10 years of breeding, all the expense for genetic testing that we must spend to keep our puppies clean of health issues, the days of putting TWO PRETTY dogs together to breed is over.

We do not have any dogs in Shelters, Rescue or the Pound. We take care of our own with a lifetime promise to re-home any of our dogs that may come back because sometimes "LIFE HAPPENS".

Puppies sold as "Companions" must be Neutered between 7 & 13 Months of age and Spayed between 7 & 12 months of age.
We offer the a exceptional option for Sport & Working Dogs: "Vasectomy or Hysterectomy" so the dogs remain in an "intact" state for drive.

While many breeders will *tell* you that their pups are "healthy and guaranteed" any "guarantee" is ONLY as good as what you get in writing. A Desert Willow Guarantee is a legally binding signed document that will provide you with peace of mind knowing that we fully stand behind every puppy we place, and our guarantee does not speak about LIFE TIME Support. We have the BEST support system out there!
* The Purchaser has read and fully understands the terms of our Contract/Guarantee and agrees to comply with them. Buyer, by purchasing an "Desert Willow" Aussie, agrees in full to our Contract/Guarantee agreement, and agrees to provide Breeder with a signed copy of said agreement.

High Standards produce Quality Australian Shepherds
We have been asked why our prices are high, when Australian Shepherd puppies can be found (from disreputable sources) for a couple hundred dollars. We would rather explain to you now why our pups are worth their price, than explain to you later why our quality was poor. We would rather explain to you now why we breed so selectively, than explain to you later why your loved family companion is sick. Quite often, you do "get what you pay for". We care about providing you with the Best Quality possible, We guarantee it!
A Deposit of $200 is required to Reserve a Desert Willow Australian Shepherd puppy. The deposit will be applied toward the total purchase price.
Advance Reservations are accepted on a limited basis for each litter. Pups may be chosen at 3 weeks of age in the order reservation deposits were placed. Remaining pups will be made available on a first-come-first-serve basis to approved homes.
Transport is available after your pup reaches 8 weeks of age. While you are welcome to come visit in person, we realize a trip to New Mexico is not feasible for everyone and will work with you to make the face to face connection. We strongly encourage out of state Puppy Parents to fly in and meet us at the airport in Albuquerque. This is done in one day without you ever leaving the airport. We share a meal, take pictures and play with your puppy in the Pet Relief area and then you fly back home with your Puppy in tow. The airline charges a fee to carry your puppy on-board with you in a special soft carrier that is provided by Southwest Airlines for a small fee and tucks comfortably under the seat in front of you. We have other options available, please contact me direct for more details.
A Home for Life. Every Desert Willow Australian Shepherd that we breed is guaranteed a home for life with us if needed. We believe that if we bring a dog into this world, we have the responsibility to make sure that dog always has a loving home and does not end up unwanted, abandoned, and spending its last days alone in a shelter run. The biggest and most important commitment a breeder can make is to take responsibility for the lives they produce. We do everything possible to ensure continued household placements for our puppies for life and have an agreement with every Desert Willow puppy parent. If an unforseen situation were to arrise in your life, we will assist in finding a new home for your Desert Willow Puppy. It's our promise to them!
Thank You for considering a Desert Willow Aussie!