Retired Dogs
"Omega"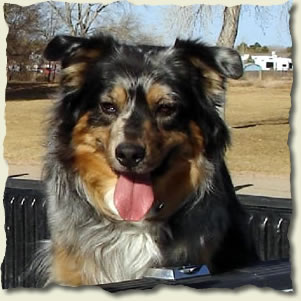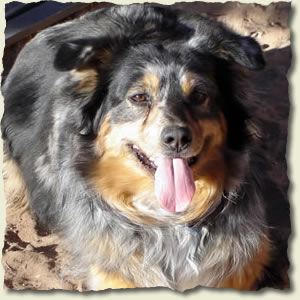 Omega is our Party Girl! She has the biggest - Snort filled - toothy smile of any dog I've seen! She is so beautiful and has been very desired by the serious Aussie Lovers - She is an Authentic Aussie with her shorter snout and squarer body features (more of the Original "foundational" look). She is finished with her breeding career at the young age of 7 years old, however her puppies are nothing short of excellence (in our opinion)! She has given us so much pleasure with her ways and has blessed our Kennel with Marilyn Monroe, Oliver Stone, and many more puppies who are loved for their "Meggy" ways. She loves that Frisbee, let me tell you! She will play Frisbee or Ball until she drops down in exhaustion! She is living out the rest of her life with my Mom in Law here in New Mexico (who she's been with for some time now) and loves her daily walks, romp with the other Aussie's and adores her family there. Thank you Meggy for all your blessings!
Grace Kelly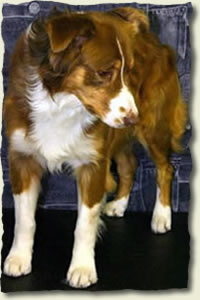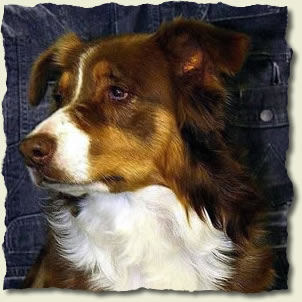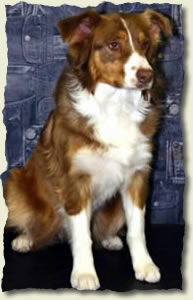 Red-Tri Female with Amber Eyes
DESERTWILLOW'S KELLY OF GRACE


This is Grace Kelly "Gracie" and as you can see she is absolute Royalty! Her beauty and grace go beyond say. She moved into our lives and into our hearts when she was already grown. She is exceptionally smart, very agile, highly energetic and her greatest asset is her loving loyalty (and the way she looks at you while lovin on ya)! She is a beautiful Red-Tri with the brightest Copper trim and big white ruff and paws, excellent conformation (and her pedigree is excellent) and her puppies are exquisite with most of them coming out to look just like her! She is now retired and will be living back East with her Daughter...More later!
Jubileena Olin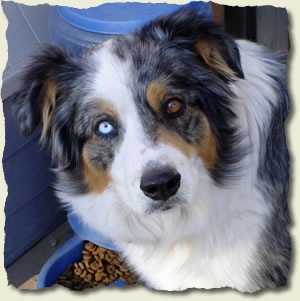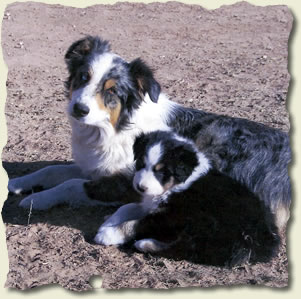 Blue Merle Female with One Blue Eye & One Brown Eye
SMART LITTLE LENA
Now Jubileena, she's a lady! She is so very elegant in her ways, yet runs faster than a Jack Rabbit headin' for it's hole! She loves to herd (the kids), and loves our Children beyond what I've ever seen in a Dog. She's extremely loyal, protective, and loving and the Kennel's Alfa female. She does not tolerate misbehaving within the pack either, and everyone bows to the "queen". She loves her puppies, and will nurse them until they're a year old if we'd allow it! You can see her intelligence when you look into those eyes of hers. She is now the new member of Lori's family here in Rio Rancho, New Mexico where she is happy & Healthy living with her puppy "Baxter" (formerly "Wilkins" from her last litter with Audie Murphy). She had adjusted wonderfully and loves Lori as her own now. Here is what Lori has to say about the two of them:
Baxter (formerly "Wilkins") is doing great. He weighs 26 lbs now at 3 1/2 months old, and is growing every day. The vet says he looks terrific and he has the greatest personality. Jubileena has lost weight now and really enjoys playing with Baxter. They have both been very healthy and I attribute that to the great food and supplements (and plenty of activity). I am grateful to have them both!
Lori
"Shelly Winters"

Blue Merle Female w/ One Blue Eye & One Green Eye


As you can see, she is beautiful beyond words. She is from a previous litter and we kept her because she chose to live with us and sits patiently at our feet to get even a small pat on the head. She's a love bug, and a true friend. Shelley is now off to live with a wonderful couple who will love her beyond her highest expectations. We decided to allow her to have one liter for health reasons then place her because of a silly color fault on her ear. She shared the most BEAUTIFUL litter of puppies we've ever been blessed with. Having her has been an honor and we get to see her often too!

Rock Hudson & Kodiak


Black Tri-Male with Bright Copper trim & Red Tri-Male (Deep Livery Color)

STILL MISSING

Rocky (Along with Kodiak) has been missing since Mid May 2011. We moved to our new location which is when we lost our boys Kodiak. We are praying they will make it back to us someday and have spent weeks searching for them - both are Micro-Chipped.

We Will NEVER forget you Rocky & Kodiak. I WILL ALWAYS
pray for your return....

Louise Ducote documents our painful journey in her blog postings below


"Just a Dog" - Baxter loses a friend."
Replaced Dogs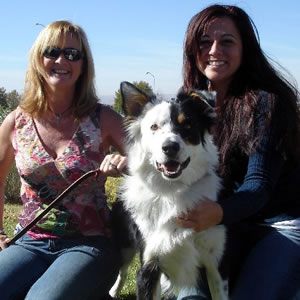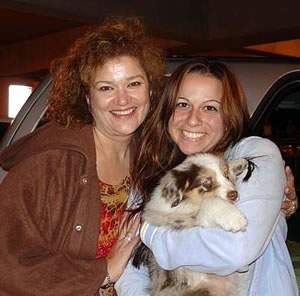 This is Sara (on farleft) who fell madly in love with Sam Elliott "Sammy" from the moment she laid eyes on him a year ago. Sadly because of health concerns they are not able to keep Sammy, which forced Sara to contact us and with "utter devastation" asked if we would help her to find Sammy a new home. The awesome twist to this is that Eva (on the right of both photos - next to me on the "other" right) had truly wanted Sammy also from this litter, but he was already promised to Sara and her family. But as fate would have it, Eva was able to adopt Sammy too! I was a witness and facilitator to this difficult and joyful day and am so thankful to have the BEST puppy parents any breeder could hope for. Sammy now resides in Las Vegas, Nevada with his full brother and litter-mate Sonny, and new Mom Eva.
We are commited to our dogs in finding them FOREVER homes!
______________________________________________________________________
Breeder with a Capital "B" A Breeder (with a capital B) is one who thirsts for knowledge and never really knows it all, one who wrestles with decisions on conscience, convenience, and commitment.
A Breeder is one who sacrifices personal interest, finances, time, fancy furniture, and deep pile carpeting. A Breeder gives up the dreams of a long, luxurious cruise in favor of turning that all important Show into this years "vacation". A Breeder goes without sleep (but never without hot coffee or tea) in hours spent planning a breeding or watching anxiously over the birth process, and afterwards, over every little sneeze, wiggle or cry.

A Breeder skips dinner parties because that litter is due or the babies have to be fed at eight. A Breeder disregards birth fluids and puts mouth to mouth to save a gasping newborn, literally blowing life into a tiny helpless creature that may be the culmination of a lifetime of dreams.

A Breeder's lap is a marvelous place where generations of proud and noble champions once snoozed. A Breeder's hands are strong and firm and often soiled, but ever so gentle and sensitive to a puppy's wet nose A Breeder's back and knees are usually arthritic from stooping, bending, and sitting in a birthing box, but strong enough to support the next choice pup to a championship. A Breeder's shoulders are stooped and often heaped with the abuse from competitors, but they're wide enough to support the weight of a thousand defeats and frustrations. A Breeder's arms are always able to wield a mop, support a armful of puppies, or lend a hand to a newcomer.

A Breeder's ears are wondrous things, sometimes red (from being talked about) or strangely shaped (from being pressed against a phone receiver), often deaf to criticism, yet always fine tuned to the whimper of a puppy. A Breeder's eyes are blurred from pedigree research and sometimes blind to her own dogs faults, and are ever so keen when searching for that perfect specimen. A Breeder's brain is foggy on peoples names, but can recall pedigrees faster than a IBM computer. It's so full of knowledge that sometimes it blows a fuse: it catalogues thousands of good boning, fine ears, perfect heads... and buries the soul of failures and the ones that didn't turn out.
A Breeder's heart is often broken, but it beats strongly with hope everlasting... and its always in the right place!

Oh, Yes, there are breeders, and then, there are... BREEDERS!